How do you plan a wedding transportation?
There are countless aspects of your wedding day that need to be planned in advance. One of the most important, though, is getting everyone from Point A to Point B. Even if your wedding transportation plans only involve the bride and groom, wedding party and immediate family, your related costs can climb quickly.
We've put together wedding transport tips so you can save thousands of dollars on your wedding transport. The best part is that you can use the money you save setting up for your future together, or even splurge on an exciting honeymoon!
Book as Far in Advance as Possible
Like any other type of rental, wedding transport gets cheaper the further in advance you book. This is especially the case if your chosen mode of conveyance is in low supply (e.g. specialty vehicles and vintage cars). Start visiting the websites of rental companies months in advance to compare their best prices.
Don't Pigeonhole Yourself to a Single Company
Recommendations from friends and family are the most trusted form of marketing out there, but don't just resign yourself to working with a specific company. You certainly get what you pay for when it comes to wedding transport, but just because one company isn't as expensive as another doesn't mean it's inferior. Look at several companies' pricing and online reviews to save a ton.
Keep a Strict Schedule
No one wants to rush their wedding day, but if you have specific times set up for the ceremony, reception, and any other wedding day event, you can save money on your transport. This is because you're not only charged for the ride – you're also charged for waiting time. You could end up paying an extra $150 for every hour your drivers are sitting around.
Consider a Wedding Bus or Van
How adorable is this van for your wedding?
It's understandable that you want your wedding transport to stand out, but you should look beyond cars if you really want to save. From a vintage VW van to luxury bus rentals, you can still have everyone travel in style while putting entire groups in a single vehicle. Specialty buses that carry a dozen people are typically less expensive than luxury cars that only carry two.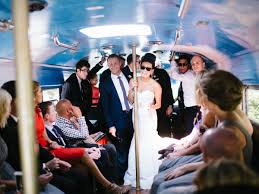 Hire professionals.
The last thing you want to do is get stuck without transportation or transportation that's running late. To minimize the risk of this, you want to thoroughly vet the company you hire. If you go the wedding-planner route, chances are he or she has established relationships with trusted transportation companies. "This company should be insured with properly maintained vehicles and professional licensed drivers,"
Size vehicles up for comfort.
Don't be tempted to squeeze a ton of people in a small space, especially when your wedding weekend is concerned. Everyone is dressed to the nines and you want to make sure they stay that way along route. "If you have 18 guests do not rent an 18 passenger van and have your guests shoulder to shoulder," advises Sheppard. "Size up and give everyone a little breathing room especially during those unbearable summer months."
Don't forget about the drop off.
Figuring out how to plan your wedding transportation is not just about the pick up, but the drop off at the end of the night. While your guests are all aiming to arrive at the same time, they may not all want to leave at the same time.  To make it easy on your guests, she recommends having your shuttles on standby a couple of hours before the end of the night.  "This allows guests to leave when they want to and your shuttles will make multiple round trips to ensure everyone is taken care of.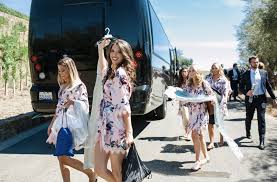 Budget
Your finances have dictated everything from the centerpieces you've chosen to the dress that you'll rock down the aisle, and wedding-day transportation is no exception. Consider the cost per hour, price of mileage and the distance involved from one point to another when booking your contract. Most companies will charge a minimum of three to four hours ($50 to $300 per hour depending on where you live and which vehicle you've rented).
Ask to see the limo (or other vehicle) in person to verify that it has enough room for your bridal party to fit comfortably inside! If you're getting married in the summertime, you'll also want to ensure that the air conditioning works.
Prepare Yourself
You know that itinerary you've been obsessing over like a busy little bee? Fax or email it to your transportation company, along with all of the necessary directions, including alternate routes in case of an untimely traffic jam. It's also a great idea to give the itinerary to your bridal party, along with any necessary numbers they may need to have handy.
And whatever you do, don't call the bride! Make sure that either your wedding planner (if you hired one) has all of the receipts/contracts and any contact numbers they may need. It's also wise to let your transportation company know to contact them in case they need an answer or there's an issue on the wedding day (e.g. the original car you wanted breaks down, so they need to send another one).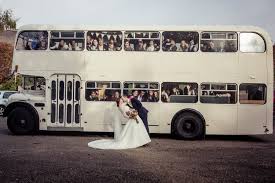 Getting From Point A To Point B
If you're planning to transport a large number of people, think function over form. My friend recently rented a school bus to transport guests for her wedding, which was both cost-effective and amazing. (The goody-two-shoes in me got a huge kick out of taking a swig from a flask while riding the school bus home from the reception.) The cost of renting a trolley initially gave us sticker shock, but it was actually a surprisingly good deal in comparison with renting two or three separate limos to seat the same number of people.
If you're not sure where to start, ask your venue for recommendations. Or, if you're doing a hotel block, ask the hotel if they have any deals with nearby transportation companies—one nearby shuttle company offered us a discount based on how many rooms were booked in our block.
Everything you need to know about renting a charter bus for your wedding.
We know. Wedding transportation isn't the most exciting element of wedding planning. It's no cake tasting or dress fitting, but, with the help of this guide, it can be quick and painless. And who knows? Maybe we'll surprise you with some playful ideas to make your bus rental part of the fun.
When to rent a bus for your wedding transportation
To avoid the price surging that occurs with last minute bus rentals, rent a bus no later than 4 months in advance. If your special day is scheduled any time between April and June, you'll be competing with prom and graduation, so book even earlier! Bus.com makes it easy to rent a bus as early as possible. When you have your date, best-guess-guest-list, and locations, get a quote with our online booking tool. Our Book Now, Pay Later option lets you book your wedding transportation, then wait to pay until 21 days before your big day.
A little extra goes a long way!
Depending on the type of bus you choose, different amenities will be available. Some of these will be vital. Some will be nice little luxuries.
The number one thing that gets forgotten in wedding planning is the massive poofy skirt that comes with the wedding dress. Limos are nice, but made uncomfortable when they're packed full of taffeta. The extra space and comfortable seats of a coach bus are key to crammin' in that princess dress. You'll also want to consider booking a wedding bus rental with air conditioning so that guests wearing pastel will arrive pit-stain-free. Wifi, audio-visual equipment, on-board bathrooms, and extra luggage space are also available on most coach buses.
Style your wedding bus rental to suit your vibe.
Every bride is different. Some are girly. Some are rock-and-roll. Whoever the belle of the ball may be, you can style your bus to suit her vibe. When planning floral arrangements, consider getting a few extra bouquets to spruce up the bus. Streamers in pretty pastels or a few well-placed palm leaves can bring extra life to your wedding transportation. Purchase photo booth props and leave them in the seats to encourage guests to explore their playful sides…and create some memorable moments to capture in pictures.