Care Tips
Regular Vacuuming
It is important to vacuum your carpet thoroughly and frequently, particularly in high traffic areas to prolong the life of and enhance the appearance of your carpet.
After your carpet is laid, vacuum lightly and frequently in the first week and then at least weekly and more frequently in high traffic areas after that.
Give three vacuum passes for light soiled areas and five to seven passes for heavily soiled areas.
Vacuum first against the pile direction to help unsettle and remove dirt and grit to reduce matting.
When finishing, vacuum in the direction of the pile to achieve a uniform finish.
Steam Cleaning
Depending on usage carpet should be professionally steam cleaned every 12-18 months.
Steam Cleaning should only be undertaken by a professional carpet cleaner who is a member of a professional association.
Shampooing, do it yourself steam cleaning or dry cleaning are not recommended.
Vacuum Type
Use only a quality vacuum.
Vacuums fitted with micro filter systems ensure fine particles (such as dustmite allergens ) are removed and stay in the collection bag (particularly if you are dust sensitive).
To prevent excess fuzzing turn the brush off, or change the head when vacuuming loop pile, cut pile or berber carpet.
Check and adjust the height of beaters if fitted regularly to ensure the carpet is not damaged by excessive beating.
For thicker carpets with a higher pile, the height of beaters may be raised and/or suction level reduced to make vacuuming easier.
Suction efficiency is reduced considerably when bags are half full.
Change or empty dust collection bags frequently and replace filters as recommended by the manufacturer.
Spot Cleaning
Prompt attention to spillages or stains is paramount to avoid the penetration of a stain into the carpet fiber.
Liquids (particularly hot liquids) must be attended to immediately. If allowed to cool or dry, the stain will be more difficult to remove.
Care must be taken as haphazard attempts at spot removal can cause permanent stain setting, pile distortion and loss of color.
Follow the stain removal steps as recommended.
Exercise extreme care with all bleaches and chemical products as the can permanently discolor or dissolve carpets.
Ways to Protect Your Carpet
Place door mats at exterior doorways.
Use furniture coasters and chair pads under chairs with castors and occasionally rearrange furniture to alleviate pressure marks.
Use rugs to protect carpet in high traffic areas.
Protect carpet from prolonged periods of direct sunlight with curtains or blinds.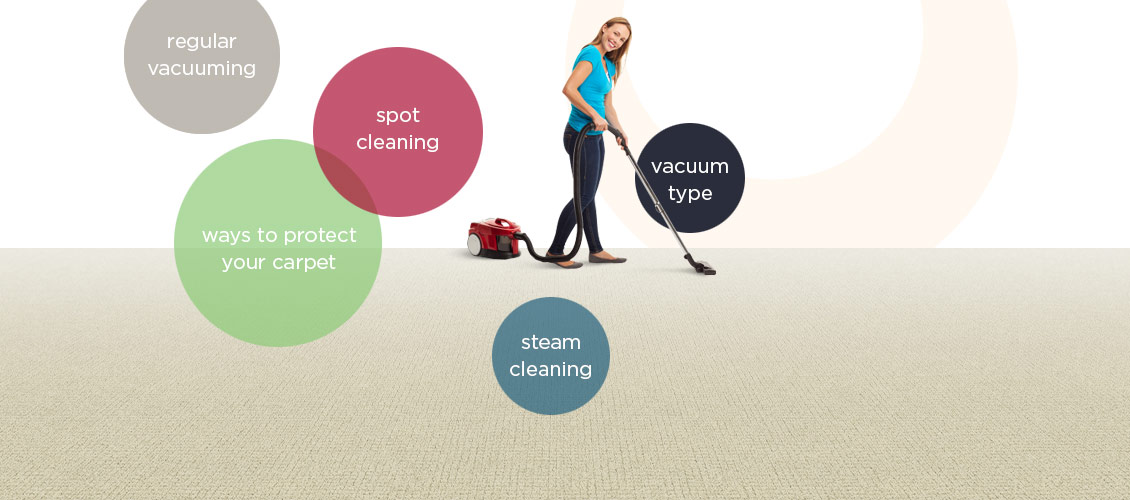 CARPET CLEANING TIPS & TRICKS
We have been in the industry for over 30 years now, offering professional carpet cleaning services Auckland wide. With this comes a great deal of knowledge around common unexpected spills and stains to your carpets or rugs.
Draw up with paper towels. Apply pressure with your hand. Keep going with fresh paper towels until the paper towels are dry. Flush out with clean water once you've soaked up the majority of the spill. Flush the water on the spill and soak it up with paper towels
Coffee and tea are natural dyes, although these types of spills are not so urgent as discoloration will take a longer period of time. Again the 'draw up flush out' technique is best Draw up with paper towels. Apply pressure with your hand. Keep going with fresh paper towels until the paper towels are dry.
For artificial dyes spilt on your carpet, like soft drinks, cordial drinks & syrups, ice blocks etc.. It's best to try the draw up flush out technique again, so you: Draw up with paper towels. Apply pressure with your hand. Keep going with fresh paper towels until the paper towels are dry.
Oily marks from things like grease, tar, make-up, baby oil, suntan lotion, crayons etc are usually quite stable, so they're not especially urgent to deal with – apart from the visual annoyance obviously. As long as you call us in with few days, they can usually be successfully removed.
How to Clean Your Carpets
A clean carpet is important both for the appearance of your home and the health of the people who live in it. Stains and dingy carpet can detract from a peaceful atmosphere, while allergens and dirt can contribute to respiratory problems. There are a number of ways to clean carpet, depending on the nature of the mess.
Prepare the room to be vacuumed. Pick up any toys, papers or other objects that will obstruct the passage of the vacuum cleaner.
Use a nozzle attachment to clean hard to reach areas. The edges of the carpets and the baseboards often collect dust which should first be removed.
Vacuum both horizontally and vertically. First vacuum the entire room forward and back, then repeat the process going left to right. Carpet fibers are typically twisted, and by going both directions you can ensure that every part of the fiber has been reached.
Vacuum regularly. How "regularly" will depend on a few factors. In general, it's recommended to vacuum at least once a week per person in your household or roughly 20 pounds of pet.
Helpful Clean Carpets Tips!
While everyone loves to have their home carpeted, not many fully understand the importance of having their carpet cleaned regularly. Why it is important is not readily understood, but the reasons and importance are varied.
Carpeting is very expensive; and some persons would even go on to say it is an investment that adds value to a home or office. The expense and the underlying investments are simply reasons enough for you wanting to maintain your carpet with regular vacuuming and yearly deep cleaning. By so doing, you'll be ensuring that your carpet lives on for a long time and continue to add beauty and value to your home or office by providing the perceived luxury of a cushy and nice covering for one's floors.
Vacuum carpets daily. If this task is too bothersome, purchase a robotic vacuum cleaner to do the job for you. Vacuuming prevents soil from bonding to fibers, and keeps them from sinking down to the base of your carpet. There are lots of good vacuums out there.
Make sure all hard surfaces (tile, wood, slate and marble) are cleaned daily or weekly. Pay close attention to the hard flooring in home entrances and kitchen and garage areas. You will not have clean carpets if your hard surfaces are filthy. To test these surfaces for soil, place a small amount of cleaner on a towel and wipe. This will show you what is being tracked onto your carpet.
Make sure no one uses outside shoes or bare feet on your carpet. Post a "No Shoes" tradition observed sign and offer guests slippers. Shoes track in a lot of soil -especially if they see asphalt regularly. Going barefoot means you are injecting body oil into carpets. Soil clings to oil and oil clings to carpet fibers. Body oil can permanently stain carpets if given enough time. Slippers or socks worn need to be worn at all times.

Carpet Cleaning Tips for Pet Owners
Be Prepared
Have the right products, tools, and equipment on hand when an accident happens. Enzyme treatments designed specifically for neutralizing urine stains and odors, and a hand-held carpet extractor are two items you'll need. An enzymatic cleaner that contains bacteria and an oxygen-booster will help you prepare for cleaning up solid pet messes. Don't skimp on cost, as the lower-priced versions mask odors instead of neutralizing them. The result? They often return later. A scraper or putty knife and dustpan will also be helpful for cleaning up solid pet messes.
Act Quickly
Develop the mindset that all pet messes must be cleaned up immediately. The longer they are allowed to stand, the harder they will be to remove and the more you will compromise the life of your carpet.
Clean Correctly
Urine Stains: Use the extractor to thoroughly remove the urine from the carpet. This works much better than paper towels. Apply the enzyme treatment according to package directions.
Solid Messes: Use the scraper and dustpan to scrape up and remove solids from the carpet. Generously apply the oxygenated enzymatic cleaner and wait at least 45 minutes. Scrape up any remaining solids, let the area dry, and vacuum.
Prevent Pet Interference
To keep pets away during cleaning, lightly cover the treated area with aluminum foil or a plastic bag. These items will make noise when disturbed, keeping curious pets away.
Discourage Reoffending
Keep your carpet clean and fresh to make it less attractive to your pets. Vacuum two or three times a week, treat affected areas promptly, and schedule regular professional carpet cleanings.
Pet stain and odor removal isn't a mystery. With the right tools and techniques, you can keep your carpet looking good and smelling fresh while extending its life. Isn't that worth the effort?