Step-By-Step Guide on How to Deep Clean a Bathroom
Every room needs a deep clean sometimes—and that goes double for the bathroom. Everything from your shower curtain to your toothbrush handle (sorry) can be, and likely is, rife with bacteria. The range of bacteria includes some that can be harmful to humans, including antibiotic resistant gram-negative rods as well as gram-positive cocci, which can cause skin infections, pneumonia, and septicemia. It's important then to know how to deep clean a bathroom so it doesn't just look clean but is also rid of all that potentially harmful bacteria.
Things like toilets, bathtubs, showers, and faucets should be cleaned once a week, and you should deep clean a bathroom about once a month. Your weekly cleanings will help you keep things tidy and prevent bacteria from piling up, and your once a month deep cleanings will help address any problem areas. As for what those problem areas are, note that your shower curtain and shower floor harbor a whopping 60x more bacteria than your toilet seat, and that aforementioned toothbrush handle is an unexpected hot spot for germs as well (roughly 12.6 million colony-forming-units (CFU), compared to about 235,000 CFU on the toilet seat). And a basic cleaning isn't going to cut it when it comes to eliminating all that bacteria.
How to Deep Clean a Bathroom
Follow the steps below to give your bathroom the deep clean it deserves.
Clear the clutter
Bathroom counter covered in stuff? Your first step is going to remove the clutter, as well as anything else that's standing in the way of a deep clean. Take your bath mat and follow the directions on the tag to clean it. Most bath mats can be run through the washer on the cold cycle and then hung to dry. Do a load of any used bath and hand towels too while you're at it.
Vacuum all surfaces
Long hair or short, if you've got hair there's a strong probability that a lot of it ends up on your bathroom floor. Ditto for the dust that floats in the air around us. That's why vacuuming before you start scrubbing is important, since it provides you with a blank surface to work on
Wipe down surfaces
To deep clean a bathroom, you'll need to give some TLC to every surface in the space—even those that you might not think of very often. Scrub down all surfaces with disinfecting spray or wipes or distilled white vinegar, including the floor of your shower. Don't worry about the toilet for now since you'll get to that later, but do make sure to scrub and sanitize your vanity (including cabinet doors), as well as sinks, faucet handles, door knobs, and even the pull on your window. This speaks to the overarching rule of deep cleaning a bathroom, which is that if you touch it, step on it, or sit on it, you're going to want to sanitize it.
Clean the shower
Hopefully you make a point already of wiping down your shower walls and doors after each use already, but if you don't, now is the time to tackle all of that build-up. (And if you do, you'll still want to do the deep clean—it'll just be a little easier.)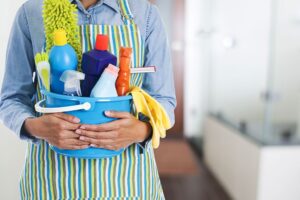 Cleaning and Disinfection for Community Facilities
There is much to learn about the novel coronavirus (SARS-CoV-2) that causes coronavirus disease 2019 (COVID-19). Based on what is currently known about the virus and about similar coronaviruses that cause SARS and MERS, spread from person-to-person happens most frequently among close contacts (within about 6 feet).
This type of transmission occurs via respiratory droplets, but disease transmission via infectious aerosols is currently uncertain. Transmission of SARS-CoV-2 to persons from surfaces contaminated with the virus has not been documented. Transmission of coronavirus occurs much more commonly through respiratory droplets than through objects and surfaces, like doorknobs, countertops, keyboards, toys, etc.
Current evidence suggests that SARS-CoV-2 may remain viable for hours to days on surfaces made from a variety of materials. Cleaning of visibly dirty surfaces followed by disinfection is a best practice measure for prevention of COVID-19 and other viral respiratory illnesses in community settings.
It is unknown how long the air inside a room occupied by someone with confirmed COVID-19 remains potentially infectious. Facilities will need to consider factors such as the size of the room and the ventilation system design (including flowrate [air changes per hour] and location of supply and exhaust vents) when deciding how long to close off rooms or areas used by ill persons before beginning disinfection. Taking measures to improve ventilation in an area or room where someone was ill or suspected to be ill with COVID-19 will help shorten the time it takes respiratory droplets to be removed from the air.
This guidance provides recommendations on the cleaning and disinfection of rooms or areas occupied by those with suspected or with confirmed COVID-19. It is aimed at limiting the survival of SARS-CoV-2 in key environments. These recommendations will be updated if additional information becomes available.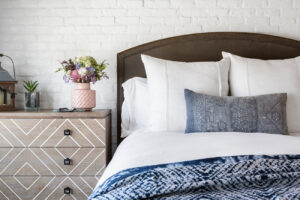 Cleaning and Disinfecting Your Facility
How to clean and disinfect
Clean
Wear disposable gloves to clean and disinfect.
Clean surfaces using soap and water, then use disinfectant.
Cleaning with soap and water reduces number of germs, dirt and impurities on the surface. Disinfecting kills germs on surfaces.
Practice routine cleaning of frequently touched surfaces.
More frequent cleaning and disinfection may be required based on level of use.
Surfaces and objects in public places, such as shopping carts and point of sale keypads should be cleaned and disinfected before each use.
High touch surfaces include:
Tables, doorknobs, light switches, countertops, handles, desks, phones, keyboards, toilets, faucets, sinks, etc.
Disinfect
Disinfect with a household disinfectant on List N: Disinfectants for use against SARs-CoV-2external icon, the virus that causes COVID 19.
Follow the instructions on the label to ensure safe and effective use of the product.
Many products recommend:
Keeping surface wet for a period of time (see product label).
Precautions such as wearing gloves and making sure you have good ventilation during use of the product.
Always read and follow the directions on the label to ensure safe and effective use.
Wear skin protection and consider eye protection for potential splash hazards
Ensure adequate ventilation
Use no more than the amount recommended on the label
Use water at room temperature for dilution (unless stated otherwise on the label)
Avoid mixing chemical products
Label diluted cleaning solutions
Store and use chemicals out of the reach of children and pets
You should never eat, drink, breathe or inject these products into your body or apply directly to your skin as they can cause serious harm. Do not wipe or bathe pets with these products or any other products that are not approved for animal use.
Cleaning and disinfection
Cleaning and disinfecting are two different processes:
Cleaning means physically removing germs, dirt and organic matter from surfaces.
Disinfecting means using chemicals to kill germs on surfaces. It's important to clean before disinfecting because organic matter and dirt can reduce the ability of disinfectants to kill germs.
A combination of cleaning and disinfection will be most effective in removing the COVID-19 virus. Cleaning reduces the soil load on the surface, allowing the disinfectant to work and kill the COVID-19 virus. Disinfectant may not kill the virus if the surface has not been cleaned with a detergent first.
Routine cleaning
Workplaces should clean surfaces at least daily. Special attention should be given to frequently touched surfaces (e.g. tabletops, door handles, light switches, desks, toilets, taps, TV remotes, kitchen surfaces and cupboard handles). Ideally, once clean, surfaces should also be disinfected regularly. Alternatively, you may be able to do a 2-in-1 clean and disinfection by using a combined detergent and disinfectant.
Surfaces and fittings should be cleaned more frequently when:
visibly soiled
used repeatedly by a number of people (e.g. trolleys, checkouts, EFTPOS machines), and
after any spillage.
For routine cleaning, disinfectants are usually only necessary if a surface has been contaminated with potentially infectious material. For this reason, when and how often a workplace should undertake disinfection as part of routine cleaning will depend on the likelihood of contaminated material being present at the workplace. For example, in a busy retail environment with many customers and others entering a workplace each day, more frequent disinfection is recommended to prevent the spread of COVID-19. By contrast, for a small work crew operating the same item of plant each day with little interaction with other people, routine disinfection in addition to daily cleaning may not be reasonably practicable.
How do I clean?
Use the following steps to clean an environment:
Wear gloves when cleaning. Gloves should be discarded after each clean. If it is necessary to use reusable gloves, gloves should only be used for COVID-19 related cleaning and should not be used for other purposes or shared between workers. Wash reusable gloves with detergent and water after use and leave to dry. Clean hands immediately after removing gloves using soap and water or hand sanitiser.
Thoroughly clean surfaces using detergent and water. Always clean from the cleanest surfaces to the dirtiest surfaces. This stops the transfer of germs to cleaner surfaces and allows you to physically remove and dispose of the largest possible amount of germs.
If you need to use a disinfectant, clean the surface first using detergent then apply a disinfectant or use a combined detergent and disinfectant (see next section). A disinfectant will not kill germs if the surface has not been cleaned first. Apply disinfectant to surfaces using disposable paper towel or a disposable cloth. If non-disposable cloths are used, ensure they are laundered and dried before reusing.
Allow the disinfectant to remain on the surface for the period of time required to kill the virus (contact time) as specified by the manufacturer. If no time is specified, leave for 10 minutes.
Your Guide To Whole House Deep Cleaning
The first step to a happier healthier home is the reset. Here's how to deep clean your house. Welcome to the first week of our Simple Hacks to a Happier Home. Our goal is to take a simple approach to cleaning up, clearing out and ensuring that your house is a true sanctuary. Like any good project, you need to start with a blank canvas. And while doing a whole house deep cleaning
The first part of our printable is the annual updates section. Here you'll find 9 tasks to do for outdoor inspection and 8 tasks for indoors. This list is comprised of the big housekeeping items that are easy to overlook but are important to the health and safety of your household for the year to come. These are house deep cleaning items like assessing your surrounding trees. It is time for a reshape? Do all the limbs look alive and healthy. No surprise falling branches here please! Inside you'll want to do things like change your air conditioning filters which will not only help your system function more efficiently (your bills and the planet will thank you) but this can also help with allergies and musty smells.
There are also tasks on this list that suggest you call in professionals. While there are costs associated with this, it's important to call in experts when safety hazards are involved. This is an investment into your family and into the value of your home!
Whole House Deep Cleaning Step 2:
While the items in part one are biggies, they aren't too time consuming. For part two, we'll get into the more traditional routine of spring cleaning: the time-honored ritual of cleaning up and airing out every nook and cranny of your home.
Some tasks on this list probably land in the category of regular weekly chores. If so, good for you! You're ahead of the curve! For others, things like clearing off bookcases and dusting not only the shelves but the objects on them are a nice way to get reacquainted with your stuff. Spoiler alert: Next week we are diving into the art of decluttering. So as you do your room-by-room cleaning this week, keep an eye out for things that you're ready to part with now. If you realize that you'd rather donate than deep clean an item, then you can get ahead for the next phase.